Local search engine marketing is the talk of the town, and if you're not already on board, it's high time you join the party. In this comprehensive guide, we'll dive into the world of local SEO and explore how to unlock the full potential of your business—even during the most competitive times.
cue dramatic music 🏆👍🎵
Let's get started!
Table of Contents
1. Local SEO 101: Get to Know the Basics
How Local SEO Works: Slicing Through the Jargon
Local search engine optimization (SEO) is the fairy dust that helps your business appear in front of customers searching for products or services in your area. By optimizing your website and online presence for local search queries, you can climb the ranks of local packs, map packs, and organic search results, making your business the talk of the town.
Let's take a real-life example to illustrate how local SEO works. Imagine you own a pizza restaurant in Austin, Texas. To optimize your online presence and get noticed by hungry pizza lovers, you'd want to focus on keywords and phrases that are locally relevant, such as "best pizza in Austin," "Austin pizza delivery," or "pizza near me in Austin."
By incorporating these location-specific keywords into your website content, meta tags, and Google Business Profile, you signal to search engines that your pizza restaurant is relevant to users searching for pizza in Austin. As a result, search engines are more likely to display your business in local packs, map packs, and organic search results when users search for those terms.
As a result, more potential customers will discover your business, ultimately increasing foot traffic and sales.

Local Search Ranking Factors: What Makes You Stand Out
Now, you might be wondering, "What's the secret sauce that gets my business to the top of local search results?" Well, it boils down to a few key factors
• Relevance: Does the content on your website match up with what people are searching for?
• Local Citations: Are you listed in local directories and citation sites?
• Location-Specific Keywords: Are you using keywords that are specific to your location?
• On-Page Optimization: Is your website optimized for local search queries?
• Google Business Profile: Have you claimed and optimized your Google My Business page?
• User Reviews: Do users find your business trustworthy and engaging?
• Mobile Optimization: Are your website elements and content optimized for mobile devices?
• Backlinks: Are you getting quality backlinks from authority websites in your area?
• Website Quality: Is your website user-friendly, fast loading, and secure?
When you mix the perfect combination of ingredients, your local SEO rankings will skyrocket!

Local Search Ranking Factors Breakdown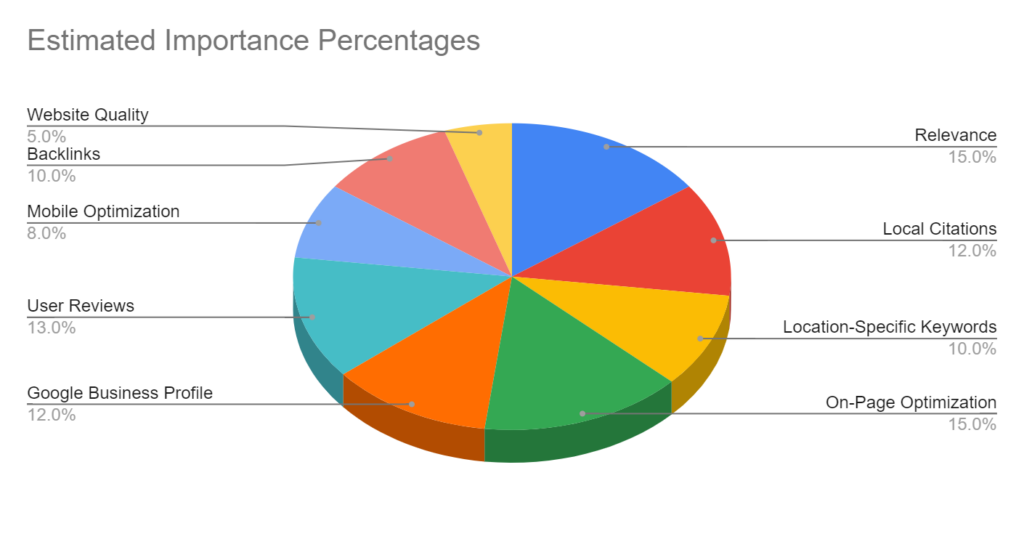 Why Target Organic Local Search Results?
Local organic search results are the holy grail of local SEO. Unlike paid ads, which require a financial investment, appearing in local organic search results requires only your time and effort.
These are the search engine result pages that appear when users type in a query with a local intent (e.g., "restaurants in Seattle"). The goal is to get your business listed on these pages, as this will increase your chances of being seen by potential customers.
Mastering the nuances of local SEO can help you funnel traffic to your website from a variety of local searches related to your business—and it's a long-term approach that pays dividends for years to come.
2. Laying a Solid Local SEO Foundation
Google Business Profile: The Key to Your Local Kingdom
Think of Google Business Profile (GBP) as the key to the castle of local search visibility. It's a powerful tool that helps you strengthen your online presence, share vital business information with potential customers, and get found when people search for services like yours. It all starts with providing accurate and consistent name, address, and phone number (NAP) information for your business.
Google Maps Integration: Boost Your Local Visibility
Including Google Maps on your website is another crucial aspect of local SEO. When customers search for a business, they often rely on Google Maps for directions, hours of operation, and contact information. Make sure you embed Google Maps on your contact page or any other relevant page on your website. This not only improves user experience but also helps search engines understand your location better, which in turn, can enhance your local search rankings.
Business Directories and Citations: The Importance of Being Consistent
Listing your business on online directories and ensuring your NAP information is consistent across the board is like rolling out the red carpet for local SEO. Some popular business directories include Yelp, Yellow Pages, BBB, Angie's List, and TripAdvisor. Just remember to keep your information up-to-date and consistent to avoid confusing search engines and customers alike.
On-Page Optimization for Local SEO: Small Changes, Big Impact
Tweaking your website's content, metadata, and header tags to include local keywords can make a world of difference in your local search performance. It's like planting tiny SEO seeds that grow into a lush garden of visibility over time. By constantly adding fresh content and optimizing existing pages for local search queries, you can give your website a much-needed boost.
Mobile-Friendly Websites: The New Frontier of Local Search
With the rise of mobile search, having a mobile-friendly website is no longer optional—it's a must. Optimize your site for mobile devices to ensure that potential customers can easily find and navigate your website, no matter where they are. Make sure your website is responsive, easy to navigate, and fast-loading to keep both search engines and users happy.
3. Crafting Your Winning Local SEO Strategy


Local Keyword Research and Content Planning: A Recipe for Success
Begin your local SEO journey by conducting local keyword research using tools like Google Keyword Planner, Moz, Ubersuggest or SEMrush. Then, create a content plan that addresses the needs and interests of your local audience while incorporating these keywords naturally.
Creating Local Content That Hits Home
Publish high-quality, engaging content that caters to your local audience. This could include blog posts about local events, news, or stories, as well as resources tailored to your community. Remember to optimize your content for local search by using the keywords you've identified.
Enhancing Your Online Reputation: Because People Talk
Positive online reviews and testimonials can significantly impact your local SEO. Encourage satisfied customers to leave reviews on platforms like Google, Yelp, and Facebook, and respond promptly to both positive and negative feedback to demonstrate your commitment to customer satisfaction.
Local Link Building Tactics: Forge Powerful Connections
Build high-quality inbound links from local websites, such as local news outlets, community organizations, and relevant blogs. These links not only improve your local SEO but also help drive targeted traffic to your website.
Overview of Key Local SEO Strategies
| Category | On-Page Optimization | Off-Page Optimization | Technical SEO Factors |
| --- | --- | --- | --- |
| Keywords | Local keywords in content, title tags, and meta descriptions | Anchor text in backlinks | N/A |
| Content | Locally relevant articles, blogs, and pages | Guest posts on local websites | N/A |
| Business Listings | N/A | Consistent NAP on local directories and citation sites | N/A |
| Reviews | N/A | Encourage and respond to reviews on platforms like Google, Yelp, and Facebook | N/A |
| Links | Internal linking within your website | Building local backlinks from authoritative websites | N/A |
| Mobile Optimization | Responsive design, fast load times, easy navigation | N/A | Mobile-friendliness |
| Website Performance | N/A | N/A | Site speed, SSL, crawl errors |
4. Mastering Local Search Tools and Tricks
Google Search Console and Analytics: The Sherlock Holmes of SEO
Use Google Search Console and Google Analytics to monitor your local search performance, identify areas for improvement, and track the success of your local SEO efforts. The most important KPIs to monitor include search impressions, CTR, bounce rate, average position, and organic traffic.
Website Issues and Speed Optimization: Keeping Search Engines Humming
Crawl errors, broken links, slow load times—all of these can impede your website's performance in local search. Use tools like Screaming Frog, Google Search Console, Ahrefs, or Google Mobile-Friendly Test to identify any issues with your website and use the insights to improve page speed and enhance user experience.
Rank Tracking: Your Secret Weapon for Local Dominance
Local SEO Tools like Ahrefs, Ubersuggest, SEMrush, BrightLocal, and others offer powerful insights into your website's performance in local search. Monitor your website's rankings for relevant keywords regularly to identify opportunities for improvement.
Keep a Close Eye on the Competition: Learn, Adapt and Conquer
Research your competitors to understand their local SEO strategies and identify areas where you can gain a competitive edge. Look at their online presence, reviews, backlinks, and content to see what's working for them and how you can improve upon it.
Use tools like Moz, Ahrefs, Majestic, or SEMrush to identify your competitors and track their local SEO performance.
5. Tailoring Local SEO for Different Business Types
Local SEO for Nonprofits, Service-Based Businesses, and Brick-and-Mortar Locations
While the core principles of local SEO apply to all businesses, some nuances may vary depending on the type of organization.
Nonprofit organizations often have unique needs when it comes to local SEO. As they don't generate profits, their visibility relies on donations, volunteers, and supporters engaging with their website or social media accounts. Optimizing a nonprofit's website for local search focuses on creating content that highlights the organization's mission statement and values as well as its impact on the local community. Developing material that showcases what services and programs it offers will also help attract more possible donors, volunteers and advocates to your cause.
Service-based businesses, such as lawyers, accountants, hair stylists, and real estate agents, rely on local search engine optimization to attract new customers near them. The main focus for these types of businesses should be optimizing the local business directory profiles and ensuring they include accurate information about the services offered, contact details, opening hours, and reviews. Additionally, creating content specific to each service that is provided by the company can help them rank higher in local search results and attract more customers.
Finally, brick-and-mortar locations have unique local SEO needs. The main objective for these businesses is to get customers to visit a physical location and make a purchase. To accomplish this, local business directory profiles must be optimized and include accurate information about the business hours, contact details, product listings, pictures, and customer reviews. Additionally, businesses should invest in creating content that emphasizes why customers should visit their location over competitors.
The Power of Social Media and Online Reviews: Don't Underestimate Them
The digital age has blessed consumers with a powerful tool for making decisions about local businesses: online reviews and social media. With just a few clicks, you can easily look up the experience of others and get the inside scoop before committing to purchase from a business. The power of these two mediums cannot be underestimated—in many cases, they are more important than a business's website, making them a key factor in local SEO.
Don't miss the boat! Positive customer engagement through social media and online review sites will do wonders for your local SEO rankings – often trumping even a website. Make sure to be active in social space by regularly posting, thanking customers who leave positive reviews, and addressing any negative ones you may receive. Investing in an all-encompassing digital presence is increasingly essential; don't wait until it's too late to start building yours today!
Tackling Common Challenges and Questions: Be Prepared for Anything
Local SEO can present unique challenges, such as managing duplicate listings, dealing with negative reviews, or understanding Google's updates on local search. Stay informed and adapt your strategies as needed to maintain a strong local search presence.
Conclusion: The Human Touch in Local Search Engine Marketing
At the heart of local search engine marketing is the human element. Remember, you're trying to connect with real people in your community, not just rank higher on search engines. Keep your customers' needs and preferences in mind as you craft your local SEO strategy.
Don't be afraid to add a touch of humor, warmth, or personality to your content to make it more relatable and engaging. After all, local businesses thrive on building genuine connections with their customers.
Finally, remember that local SEO is an ongoing process. Continuously refine your strategies, learn from your successes and failures, and stay updated on the latest trends and best practices in the world of local search engine marketing.
With this comprehensive guide in hand, you're now ready to embark on your local SEO journey and take your business to new heights. So, what are you waiting for? The world of local search engine marketing awaits!
cue triumphant music and a round of applause 🎉👏🎶
Learning what works best through trial and error is part of the process. When in doubt, remember that investing in professional help can be invaluable when achieving success with local SEO.
Investing in a local SEO agency for your business is like having an experienced navigator guiding you through unknown terrain. Suited can be that trusted guide, drawing from their expertise to develop robust strategies tailored to each client's goals and needs. With each success, you'll be more confident in your local SEO journey. Contact us today and get started with the help of our experienced SEO professionals.