SEO means search engine optimization – this article will help you gain a deeper understanding of the importance of SEO for your website.
The facts about organic vs paid traffic
Do you want your company website to appear on Google's 1st page? Of course, you do! But, do you know why that is absolutely critical? Read on!
Did you know that 85% of all Google Searchers STOP after the first 5 places on Google's organic listings?
The organic listings are the listings that appear on Google due to their content and on-page SEO work as opposed to the ads which are purchased from Google. Think of an organic listing as the ranking you didn't have to buy through paid advertising.
If you have done an excellent job with your site, then you'll show up higher in the organic listings. If you have not, then you'll be much further down, and you may not get any traffic to your site at all from those who are searching for exactly what you provide! Interestingly, only 15% of all Google users click an ad. So, if you are using Pay Per Click (PPC) Google ads, and you don't rank well in the organic listings, then you are missing out on a full 85% of all the traffic from Google Searches.
The truth about 'Page 1' (vs the other pages)
Here's another little-known fact: 85% of the traffic goes to organic listings in the first five positions, with the first position getting a whopping 53%!
That's right, the first spot is getting 53% of the organic traffic. Here's a visual where you can see this a little easier.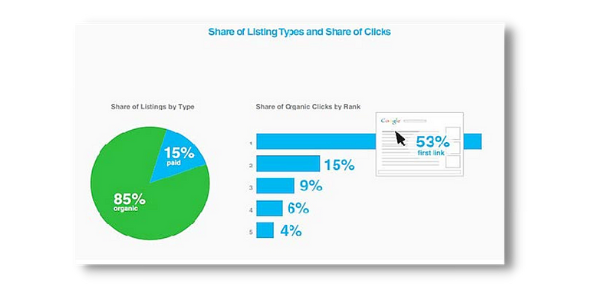 If you're not already in positions 1 – 5 under the paid ads, then your first action should be to establish or fix your SEO, which stands for Search Engine Optimization.
Companies that focus on the broad spectrum of SEO actions rank high in the listings and become household names in part because of the visibility their websites get.
Search Engine Optimization is a process of increasing the amount and quality of traffic to your site by increasing its rank on Search Engine Results Pages (SERPs).
Search engines like Google, Yahoo, and Bing use their own algorithms to filter websites based on the quality of content. Your site's ranking will be determined by key on-page and off-page factors.
The nature of SEO
The more your websites adhere to these critical factors the better you'll rank on the SERP. There's quite a bit of "behind-the-scenes" technology that goes into getting a website into those top 5 positions, and it doesn't happen overnight.
SEO is a slow build, but a strong foundation. When you've got it right, your presence is strong.
Most companies don't have an in-house SEO specialist, and as such their rankings falter – often without them even knowing it. Another problem that can hurt rankings is when an algorithm gets changed. Somebody has to now adjust the SEO functions of the site to accommodate the new changes and keep your ranking high.
Truth be told, SEO is a time consumer, which is normally why companies will hire this out if they understand the importance of it. That's where we come in, we are your SEO Team.
Our SEO services fine-tune your website so that Google can easily crawl it, find it, and rank it. We cover every key factor in Google's methodology to ensure your website is seen and ranked by Google.
As I mentioned earlier, SEO is a vast area with many different actions and processes that have to be done to rank well.
How we approach SEO for your business
Here's a quick look at the processes we implement and maintain when we provide SEO:
Competitor Analysis – Research and analysis of competitor websites
Keyword Research – Keyphrases for web pages based on your business and services, etc.
Title and Meta Tags generation for web pages
Google Webmasters Tools Setup & Submission
On-page optimization with proper keywords research and placement
Off-page optimization using off-site marketing techniques
Link building – High-quality links to your site from trusted resources.
Content Generation And Promotion – Images, text, and videos.
Technical SEO
Identification of broken links on your website
Ongoing SEO audits to ensure that the website is free from any errors or malware before submission to search engine for indexing
Since SEO does not happen overnight, routine reporting to monitor and measure your website's progress is a critical part of the SEO process.
We review and analyze your website's progress on a monthly basis. We send you detailed reports that'll show you how your site is doing in terms of an online presence. SEO reports provide you quick insights and metrics on local and/or national keyword rankings, traffic, GMB status, citations, Website SEO Score, and growth opportunities. (GMG=Google My Business)
Ubersuggest, Brightlocal, and Google Analytics are provided on an ongoing basis and give a valuable 3rd party verification of our work.
Ubersuggest report provides your site's overall ranking along with a ranking of keywords. Brightlocal reports allow you to analyze how local keywords are performing, GMB activity, and how you are ranking locally compared to your competitors. Google Analytics report provides an overview of how people are visiting your site, type of traffic, demographics, geolocation of the audience, number of visits, etc. When you are armed with real-world knowledge it's so much easier for you to make informed decisions for your marketing, sales, and expansion.
Suited is an end-to-end full-service internet marketing company that has experience going back to 2006.
With our SEO services, your website will experience:
Increased online visibility
Improved website performance.
A higher return on investment.
Ongoing Competitor Analysis
Google+ Local listings
Improved user experience
Attractive and Varied Content
If you're concerned about your online presence and SERP ranking or want to get more SEO website traffic, we'd be happy to talk with you. Click here to contact us.
If you're interested in even more info on SEO, here's a great wiki article.